Call Today to Get Started with an Experienced Score Advisor –

(714) 550-7369
An experienced SCORE Mentor can help you develop your skills and help you to grow your business. SCORE Mentors are active and retired business executives and entrepreneurs who donate their time and expertise as mentors. For more information online about mentoring or to schedule an appointment:
Find a SCORE Mentor
SCORE Chapter 114 is the local Orange County chapter of SCORE, a non-profit association dedicated to helping small businesses. In a recent fiscal year, SCORE Orange County volunteers personally held more than 4,000 sessions with entrepreneurs and educated over 11,000 people in 350 workshops. An independent study concluded that in 2012, SCORE Orange County helped start 287 new businesses and create 1,615 new jobs. Find out more about SCORE 114.
You can attend weekly workshops given by experienced SCORE advisors that can help to increase your sales, productivity, and profitability! Choose from over 90 low-cost or no-cost sessions a year, given at various locations throughout Orange County. For topics and locations see:
SCORE Workshop Information
The SCORE Association was founded in 1964 and has approximately 370 chapters throughout the United States and its territories and over 11,200 volunteers. In the 1970s, when SCORE chapters were formed, the organization expanded its services to offer workshops and seminars on a variety of business topics. In 1996, SCORE began providing small business advice via email to meet the changing demands of the information technology age. To date, SCORE has served more than 8.5 million clients. SCORE is a resource partner with the U.S. Small Business Administration.
Recent comments from
SCORE clients to their Mentors:
It was great to meet you and spend one on one time with you. You gave me great material to work with. After reviewing the business model canvas I was more aware of the areas I am lacking experience and knowledge in.
-Thank you
We'll have a go at crafting our pitch for our next meeting. Really appreciate you taking the time to speak with us yesterday. We left our discussion feeling refreshed and like we have some solid action steps to pursue. We're going to put together a list of retailers and their contacts, update our business plan with some financials and see if we can track down some distributors or manufacturer's reps. 
Thank you again for your time! 
for the dynamic Women in Business Breakfast
Friday May 4th, 2018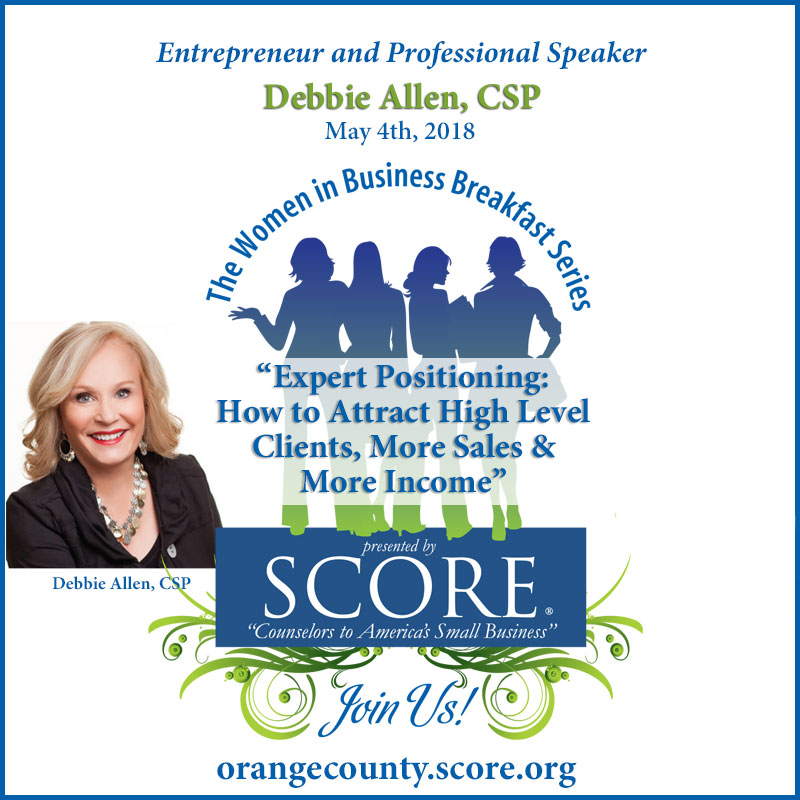 Discover how you can quickly accelerate your marketing opportunities and move miles past your competition.  Learn how to effectively position yourself and your organization as "The Go-To Expert" in your industry. And discover how brand foundation and expert positioning will allow you to gain a clearer marketing message, reduce the sales cycle and increase your income.
"Expert Positioning: How to Attract High Level Clients, More Sales, & More Income!"
Debbie Allen is an award-winning entrepreneur and professional speaker who has built and sold 6 million-dollar companies in diverse industries.  She has authored 8 books and presented in 28 countries.
Learn more at www.DebbieAllen.com
During this presentation you will learn:
   -Build a strong brand foundation with expert positioning.
  -Stand out as an expert and gain high paying clients.
   -Grow your followers and dominate the competition.
   -Build your business with innovative marketing strategies.