Call Today to Get Started with an Experienced Score Advisor – (714) 550-7369
An experienced SCORE Mentor can help you develop your skills and help you to grow your business. SCORE Mentors are active and retired business executives and entrepreneurs who donate their time and expertise as mentors. For more information online about mentoring or to schedule an appointment:
Find a SCORE Mentor
SCORE Chapter 114 is the local Orange County chapter of SCORE, a non-profit association dedicated to helping small businesses. In a recent fiscal year, SCORE Orange County volunteers personally held more than 4,000 sessions with entrepreneurs and educated over 11,000 people in 350 workshops. An independent study concluded that in 2012, SCORE Orange County helped start 287 new businesses and create 1,615 new jobs. Find out more about SCORE 114.
You can attend weekly workshops given by experienced SCORE advisors that can help to increase your sales, productivity, and profitability! Choose from over 90 low-cost or no-cost sessions a year, given at various locations throughout Orange County. For topics and locations see:
SCORE Workshop Information
The SCORE Association was founded in 1964 and has approximately 370 chapters throughout the United States and its territories and over 11,200 volunteers. In the 1970s, when SCORE chapters were formed, the organization expanded its services to offer workshops and seminars on a variety of business topics. In 1996, SCORE began providing small business advice via email to meet the changing demands of the information technology age. To date, SCORE has served more than 8.5 million clients. SCORE is a resource partner with the U.S. Small Business Administration.
Save the Date for the dynamic Women in Business Breakfast Friday February 3rd, 2017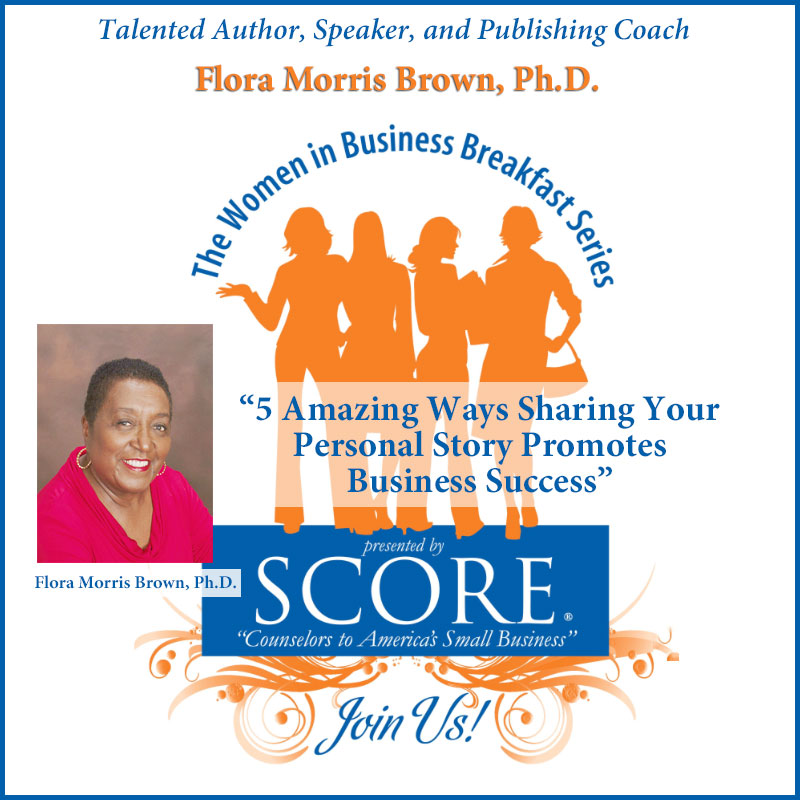 Flora Morris Brown, Ph.D.
Author, Speaker, Publishing Coach, and
Guided Autobiography Facilitator
FloraBrown.com
ColorYourLifeHappy.com
ColorYourLifePublished.com
5 Amazing Ways Sharing Your Personal Story Promotes Business Success
Most of us were raised to downplay our weaknesses, keep a stiff upper lip, and at all costs, not air our dirty laundry. In this fake-it-until-you-make-it climate, you will be amazed how revealing instead of concealing your struggles, setbacks, and failures will make you memorable and build trust with your ideal
customers. It is how you handled these unwanted events and how they transformed you that matters.
H. Jackson Brown, Jr. shared this quote from a 52-year- old: "I've learned that you can tell a lot about a man by the way he handles these three things: a rainy holiday, lost luggage, and tangled Christmas tree lights."
How to uncover your powerful personal story by digging for
treasure and value in that scriggly line called your life path
Why your personal story has an impact on potential customers
Why becoming transparent makes people want to do business
with you
How sharing your personal story has a positive ripple effect on
your business